About Natalie's Bakery
Natalie's Bakery of Madison Heights, the only European-style bakery in town, brings something new to the community with its all natural, healthy, whole grain recipes baked fresh onsite daily. This warmly lit shop with its nostalgic big band tunes, friendly staff and delicious aromas invites guests to come in and enjoy its freshly baked goods.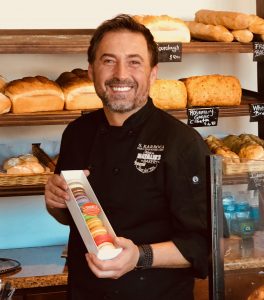 They are baked onsite daily, made by hand using only fresh wholesome ingredients purchased locally and in small quantities to ensure quality and excellence.
The owner, Sokol Karroca, was born in Albania and raised in Italy where he discovered his passion for baking. During his time in Italy, he learned and refined his skill and technique to perfection (i.e., how to mix the grain, work the dough and cooling it just right, etc.).
The following 10 years, after leaving Italy and coming to America, Sokol dreamed of opening his own bakery. As fate would have it, an injury that cost him his job drove him to pursue his dreams and open Natalie's Bakery. Sokol, a father of two, opened this bakery in April 2011, naming it after his 1 year old daughter. Sokol and his staff love serving the Madison Heights area and sharing with the community. It is his belief that every recipe has a story, a passion and a heart to it. It's a process of love!